Heather is looking for information about this photo:


---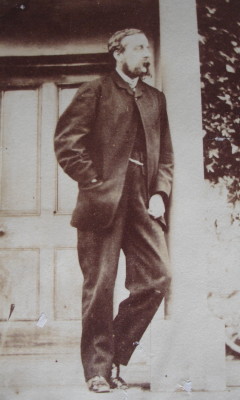 Yes, please feel free to publish my letter on your website. Could you please ask anyone who replies to put "Brereton Family" in the subject box. Anything other than mail from known contacts automatically goes into my Junk Mail, and so I need to be able to recognise anything meaningful and transfer it to the inbox.

I will let you have a photograph of Captain Brereton as soon as I can get one done, shouldn't be too long but it's a very delicate old album and needs careful handling and so it will be done as soon as I have time.

Heather
From: Heather Fawcett [mailto:hef5@hotmail.com]
Sent: Monday, June 21, 2010 5:31 AM
To: brucebre@whidbey.com
Subject: (Rescued) BRERETON FAMILY - PHOTOGRAPH QUESTION.
Question for Bruce Brereton re. early Brereton photograph

I have been looking at Brereton websites because I have a very old Norfolk aristocracy photograph album which includes a good informal portrait of a Captain Brereton. The date is 1862, and Captain Brereton looks to have been around 35 years old at that time.

Have you any idea who this may be? At first I thought it maybe the Captain Brereton who wrote adventure novels, but the dates don't appear to fit, most of his novels seem to have been published around 1910 as far as I can see. The Captain Brereton in the photograph would have been a very old man by the time he got published if it were him, unless of course he was substantially younger than 35 in the photograph I have. I presume he was a member of the Brereton family to which you belong?

I should like to know whether you can establish from your records who this man in the photograph may be, and whether you might have any information about him.

I hope this is of interest to you, but if not, maybe you could forward this mail to an appropriate family member who may be able to help.

Thank you,

Heather Fawcett UK