William Brereton built the Brereton Hall. It is built of brick, with octagonal towers standing on either side of the main entrance. Carved in stone over the entrance are the Brereton arms and date, 1586.

Note: The Hall is currently not available for wedding receptions.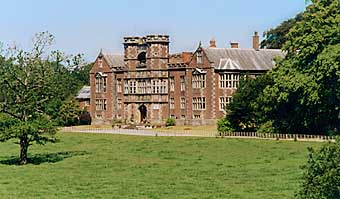 Visit the Brereton Hall website.
Check out the weather near the Hall.
Here is a current listing about the hall: Entrance hall, fine drawing room, paneled sitting room, billiard room, dining room, banqueting hall, traditional pub bar, kitchens & domestic offices, conservatory, 8 principal bedrooms, 7 bathrooms. Extensive secondary accommodation including a self contained flat. Garaging and outbuildings, recording studio. Gardens and grounds. In all about 6.5 acres (2.63 ha).
Source: Jackson-Stops & Staff