A possible connection to the Sir William Tapestry, see the note below from Nola and Russell Kenner: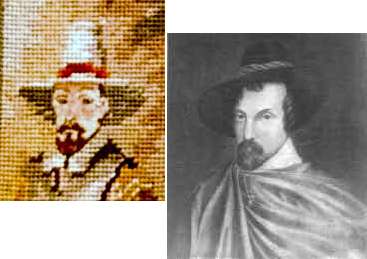 ---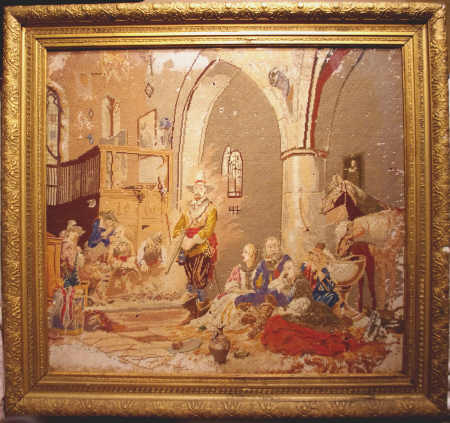 From: kenner.com.au [mailto:mail@kenner.com.au]
Sent: Tuesday, November 27, 2012 8:13 PM
To: 'Bruce Brereton'
Subject: RE: Sir William Brereton Tapestry?
Hi Bruce,
Thank you very much for the offer to place our email and the photo of the tapestry on your web site. We hope it creates some interest in the exploits of Sir William Brereton.
We have attached a portrait of Sir William Brereton placed next to the main character in the tapestry, for comparison. The Sir William Portrait was downloaded from http://www.chestertourist.com/bridgestreet_12.htm and was annotated 'Sir William Brereton (1604-1661), MP for Cheshire and Parliamentary Commander'. This may help in identifying the main character and if anyone has any facts or theories – please request that they get in touch with us.
If you have any questions, please contact us and we will try to help.
Kind regards
Nola and Russell Kenner
On Sat, Nov 17, 2012 at 4:41 PM, kenner.com.au < mail@kenner.com.au > wrote:
Hello Bruce,
We have been following your web sites and family history for some time now because of our research into the origins and subject of a tapestry (read embroidery) we purchased last year and hope you can help us to get a better understanding of the subject and origin of it. We also thought it may help you in your research of your family history.
We are Nola and Russell Kenner. We live in a Bentleigh East, a suburb of Melbourne in Victoria Australia. We believe the tapestry may depict Sir William Brereton and others held-up in a church we thought may have been St Mary's Astbury in about 1644. We came to this conclusion after many hours of searching the Internet, but are unable to find any other paintings or tapestries of the subject matter to support our findings.
I have attached a reasonably high resolution 'jpg' copy of the tapestry in the hope it will help you in the discovery process of its subject. The tapestry itself is not in a good condition as it has been stored poorly on a farm in or about Nagambie, a country town in central Victoria, since August 1942. We know nothing else about its history. The dimensions of the tapestry are: width 780 mm and height 710 mm. The dimensions of the outside of the frame are: width 960 mm and height 880 mm. The glass inside the frame has a flat surfaced (not float glass). The tapestry looks like it suffered major damage before it was framed.
We have contacted William Ball at St Mary's Astbury on the same subject and he indicated that there are some similarities, but also many differences between the interior of St Mary's and the tapestry. We also contacted James Button at Chester Tourism, who thought that the main character may not be Sir William Brereton but is a Royalist, because he is wearing a red sash and the colour difference is very unlikely to be a mistake made by the artist .
We kindly request that you help us to get a better understanding of the tapestry, as we are absolutely fascinated by it and the more we know about it would be greatly appreciated.
If you have any queries or information on the tapestry, please do not hesitate contacting us by return Email.
Kind regards,
Nola and Russell Kenner.